Truffle ceremonies are sacred gatherings during which you take a voyage through your own inner realm by consuming magic truffles. The truffle ceremonies are guided and take place in a safe and pleasant setting. The truffle ceremonies at HOLY shit. are in different group sizes with a maximum of 12 participants. You can do this to achieve growth in your own personal development or when you seek a spiritual alternative to find answers and insights.
Truffle ceremonies take place at the small ceremonial space in Amstenrade, Pim's ceremonial space in Kerkrade (private ceremonies) or at the large ceremonial space in Spaubeek. You can either choose to join in a (public) ceremony planned by us with up to twelve other participants: see event calendar. Or you can participate alone or with your own companions to a private ceremony. You pay a little more for a private ceremony, but you can plan a convenient date with the ceremony leader. The program is more or less the same, unless you book a couples ceremony.
A magic truffle is a kind of medicinal mushroom with an 'old walnut'-like flavour. Its effect is almost the same as the effect of magic mushrooms. The difference lies in its legality: while magic mushrooms are not legal in The Netherlands, magic truffles are. Truffles are a byproduct of magic mushrooms: mushrooms grow right above the ground, truffles grow below ground. Both contain psychoactive properties, enabling you to achieve a different state of consciousness. Magic truffles can take care of issues deeply below the surface of consciousness, far beyond the possibilities of conversational counseling.
No. Through the years, the feared damage by this natural product has been thoroughly researched. So far, none of these studies concluded that the active substances are harmful or associated with mental or physical addiction. We do however discourage the use of magic truffles while feeling depressed or anxious on that particular day. Extremely negative emotions will block the truffles' medicinal effects. The day after the ceremony, you usually won't suffer from any mental or physical discomforts. It is possible that you will dream more vividly that night. Sometimes, the day after might feel like a hangover, but not always.
The effects are different for everyone. A truffle voyage will often open your third eye, which will allow hallucinogenic images to come to you. You might not experience any different visual images, but auditory sensations or non-hallucinogenic insights instead. Truffles may get to you on a deep level and make you see the world in different ways. They may open the way to deeper layers of consciousness and energize you in new ways. Most importantly: do not have any expectations! Do not expect a miracle cure to solve all of your problems. Dive into the experience with an open mind and focus on your physical sensations. Try leaving your 'thinking' behind, and you will often experience the most wonderful voyage. Of course, you will be guided out of your voyage as well.
We urge you to have your last meal four hours before the ceremony. The maximum effect of truffles is achieved on an empty stomach, however we will have a program before eating the truffles so you can eat breakfast right before you come. It's fine to drink water or herbal tea. On the day of the ceremony, try to minimize the number of external triggers. It's perfectly fine to go to work, but please avoid stressful situations. Make sure to get enough sleep the night before.
When the participants have arrived, we will take our time to accustom ourselves by meditation and sharing. All participants will get to know each other, and they will have the opportunity to tell the group why they have come to the ceremony, if they so wish. We will continue with bodywork like a cacao ceremony, a shaking practice or a HOLY breathwork session. After the break, we will start with the truffles. Every participant will receive a truffle that is particularly selected for them. You will slowly descend into your voyage through guided meditation. After thirty minutes you will probably sense something. The entire duration of your voyage takes about three to five hours. Using rapéh is optional. It will be accompanied by music. After all participants have returned from their voyage, we will conclude the ceremony together with a light meal. All in all, the day of the ceremony will take about ten to eleven hours. You should essentially be able to drive after you have eaten, but every body reacts differently. It would be most convenient for you to have someone to drive you home or a place to stay.
You can find all upcoming public ceremonies in the events calendar. The maximum number of participants to a ceremony is twelve people and the costs are € 195,00 per person. If you prefer to come alone or with your own companions, or if the scheduled ceremonies are not convenient for you, we can simply compare both our planners and book a private ceremony.
| | | | |
| --- | --- | --- | --- |
| Private Ceremony | Price p.p. | Total | Duration |
| Individual | € 495,- | € 495,- | 9 hours |
| 2 persons | € 295,- | € 590,- | 10 hours |
| 3 persons | € 255,- | € 765,- | 10 hours |
| 4 persons | € 225,- | € 900,- | 10 hours |
| 5 persons or more | € 205,- | n/a | 10 hours |
| Couples ceremony | € 325,- | € 650,- | 11 hours |
Check the available dates here. If you would like to book a private ceremony for more than five people, please contact us.
IMPORTANT: You can't participate in a truffle ceremony if:
– You're pregnant or breastfeeding;
– You're on any medication that is not compatible with truffles, like antibiotics, antidepressants and medication to deal with ADHD/ADD, stomach complaints, cardiac problems of high blood pressure;
– You have, now or in the past, suffered from psychosis, schizophrenia or borderline syndrome, or you have an indication of proneness to these conditions;
– You're allergic to fungi;
– You have been using other narcotics in the last 24 hours. HOLY shit. does not allow usage of narcotics like alcohol or cannabis during our ceremonies.
When you fill out the intake, we assume that you're honest about your situation and that you heed your own safety. Filling out the intake is pointless if one or several of the above applies to you. When in doubt about medication or other risk factors, please contact us or include the name of your medication in your intake.
Locations for our truffle ceremonies:
What others say about truffle our ceremonies:
"Jenneke is very experienced"
"Very great experience in every step of the process- From the intake to a great connection afterward. Jenneke is very experienced and professional. She knows how to support each person with their own journey. Couldn't have wished for a better person to help me. ."
Rico Suave
"It was an interesting experience"
"I attended the Self Love ceremony which was conducted in a professional manner. Jenneke took a very good care of all participants and created a safe environment for all of us. It was an interesting experience!"
Marlena Mikolajczyk
"I am planning my next one soon!"
"I had my first truffle ceremony and it was mind-blowing! It helped me to resolve many things from my past. For everyone who suffers from any kind of mental health issue, here is a tip! It really helps! Jenneke gives everyone the best preparation and helps if you are very nervous (Like me 😀). I enjoyed the ceremony a lot and I am planning to have my next one very soon.!"
Catherin Wittland
"my preferred partner for psilocybin ceremonies"
"Jenneke is my preferred partner for psilocybin ceremonies. Her guidance is personal, knowledgeable, and loving. The ceremonies are skillfully guided, Jenneke uses a multitude of sensory stimuli to facilitate a deeper journey with the medicin. From the first time I've been visiting her for a ceremony I felt safe and at home. Wholeheartedly recommend Jenneke as the place for a insightful journey!"
Bart Scholtissen
"a lifechanging experience"
"It has been a lifechanging experience spending the day on a ceremony with Jenneke. I felt welcome, safe and empowered to dive deep and heal parts of me that were hurting. I ended my journey with an absolute sense of bliss."
Donna Ubaghs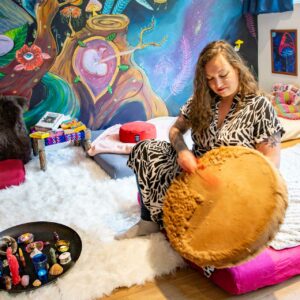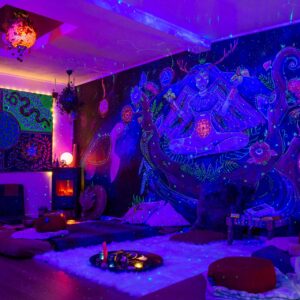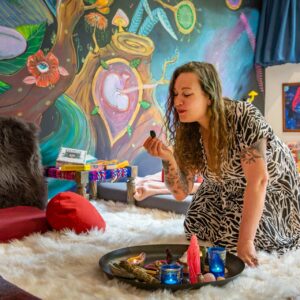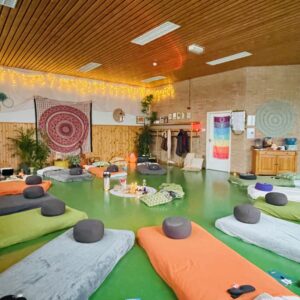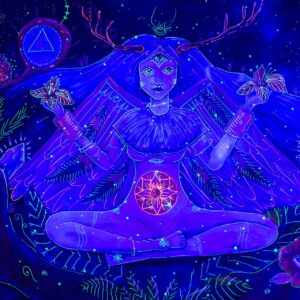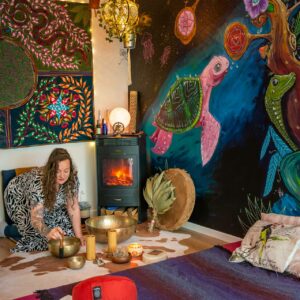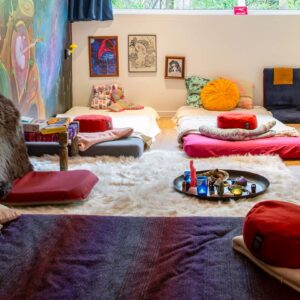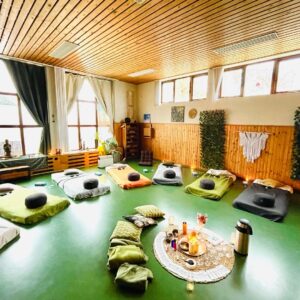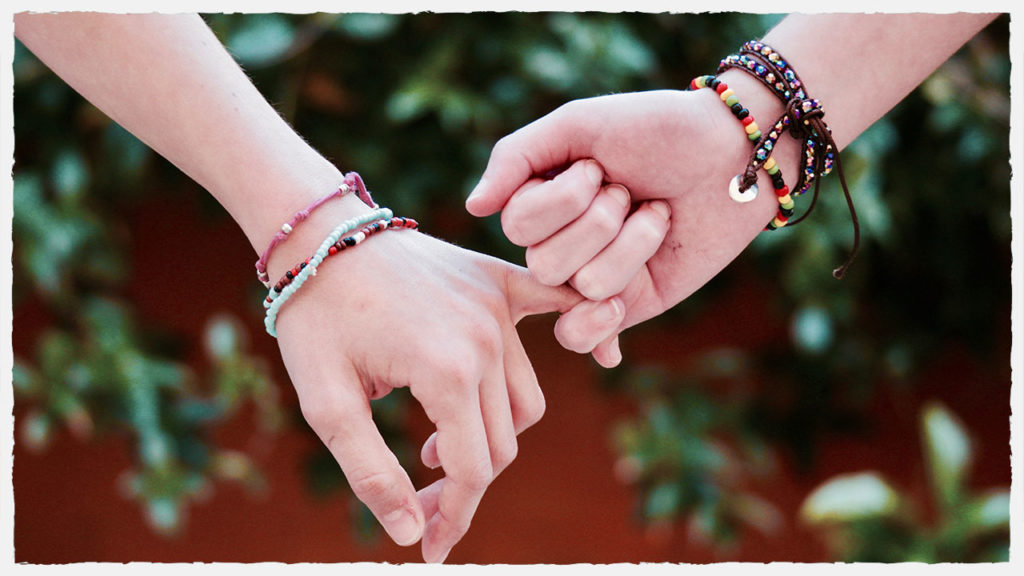 Don't feel like undergoing countless sessions of couples therapy? Tailored to couples we offer the Couples Ceremony: a private truffle ceremony for two, aimed at finding a new connection and deepening your understanding of each other. A whole day to dive into the deep, together.
With eyes opened you can rediscover one another and aid your partner in letting go of old shit. Via open conversation and connective exercises we lay the ground work for this holy ceremony, so a fuller understanding and (even more) loving relationship can grow. This couples ceremony has proven to be a succes time after time and has helped many couples achieve renewed infatuation. Let love rule!
"A warm personality"
"I've had the most amazing ceremony last weekend, a true present to myself. You feel at ease with Jenneke. She has a warm personality and gives you a good feeling instantly. She really takes her time for you, explains everything in detail and gives clear answers to questions asked.
During the ceremony itself she feels exactly what you need. Also in the days after, she reaches out to you to check in where you are standing. I think she's an angel."
R. De Goede
"The experience itself felt very comprehensive and thoughtful."
"Booked a couple's session, and it was great. The whole process from booking the session to getting clarity on logistics went smoothly also. The experience itself felt very comprehensive and thoughtful. I was nervous at first but Jenneke made me feel comfortable. The experience has helped me to look deeper within myself and is still helping me gain insights about myself even after the ceremony."
Daniil Bannikov
"Truffle ceremonies opened my heart and broadened my mind"
""This was a really profound voyage that I enjoyed very much. Jenneke was professional and preplanned for the needs of every participant. This dedication put my mind at ease and allowed me to be comfortable in the environment. Her natural gift for guidance and support was highly appreciated during my time of need. I have an abundance of gratitude upon her behalf. The variety of music, sounds, and smells, created visions of ecstasy to my delight. The other participants opened my heart broadened my mind with their sharing and experiences. Overall I had soul warming experience and would definitely do it again. I would highly recommend Jenneke's guidance as a mental coach for all levels of experience voyaging ."
Erich Session (USA)